Thomas & Holly: A Haiti Proposal
I first formally met Holly in the spring of 2016 in Haiti. Our paths had crossed once before at one of the resorts up the coast from Port-au-Prince, but it was April of that year that our friendship truly commenced.
She was preparing to leave her job at the organization that initially brought her to Haiti to step into a position with a local social business as the lead ceramicist. Holly is an artist innately, and just so happened to study ceramics in college. I recall thinking it was pretty remarkable that in Haiti someone needed someone of her talent and caliber. But then again, nothing ever really makes sense in Haiti.
Just over a year later, I also landed a job at the same business and our interactions became much more frequent. Most might recognize Holly by her light-wash denim overalls, a staple in her wardrobe. But its honestly Holly's colorful, vibrant spirit that really has an effect on people.
She began dating Thomas after I had left Haiti, but each time I was around the two of them during my visits back to the island, it was very apparent they just meshed, a complementary pair in the best of ways.
When Thomas reached out to me to help him with his proposal plan while I would be visiting Haiti, I was more than thrilled. Just eight months prior, I had documented our close friend's proposal in Haiti in which we are all present.
After a few mishaps (because come on, it's Haiti), we finally landed on a date. I had told Holly we were going to do some photos for fun of the two of them because I wanted to expand my international portfolio. And she happily obliged.
So we trekked up the mountain, each of us on a moto, to where Thomas would get down on one knee and ask Holly to be his.
And as he did, I got pretty emotional. I'm constantly reminded what a gift it is to be invited into this country, to have met people from all over, and to call this place home.
Thomas and Holly, it was an absolute privilege and delight to be a part of this most special moment.
Cheers to forever together!
(Scroll all the way down to peep the video of us riding up the mountain, and dodging traffic, on moto's!)
On our way up the mountain before Holly had any idea what was happening 😁
March 2, 2020 – by Lauren Neal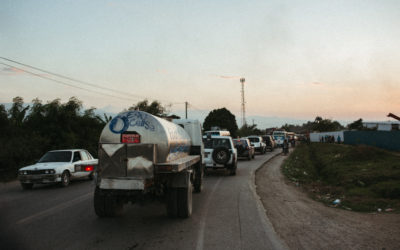 A Rush Hour Realization: On the Road in HaitiDusk begins to fall like a sign of relief after a long day's work; blood, sweat and tears in its most literal sense. A stagnant line of vehicles is evidence of the journey home for many. Hues of pastel paint the sky, a...
read more
Photography & storytelling with purpose
Feet in Cincinnati, Heart in Haiti