THE TRANSITION…
OR SOMETHING LIKE THAT
I used to believe leaving Haiti would be a beautiful transition, that God would call me away from it because He was calling me into something greater. I imagined bliss in pursuing another endeavor of equal or grander value because my life was always to be filled with purpose and meaning, in every season, right? I'm not sure how or why I arrived to this conclusion, but I anticipated this feeling, anxiously awaiting it so I could be confident in my decision to leave.
But again, I shake my head at that girl in her naïve spirit, even after all she has gone through, turning my face away as I roll my eyes to save her from my demeaning smirk. If only I could tell her she would walk through the trenches, dragging her feet on her way out, begging to leave because the state of her heart began to change and she lost sight of her own worth.
My fairytale imagination was simply not my reality. I had formulated in my mind this picture of perfection. I wanted to see my transition through rose-colored lenses, waving goodbye to those I love with a smile on my face feeling undoubtedly accomplished, but I had forgotten those lenses don't exist beyond a realm of ignorance. I had chosen to step into a hard place with hard people at a hard time. Why, then, had I romanticized the choice to leave my beloved country?
So here I sit, in front of the screen of a computer, trying to decipher that which is the "plan" for my life – this ever-looming question for which I have absolutely zero clarity.
I miss Haiti deeply. I miss the ease of my old life – not to say that Haiti was easy, because it was truly more difficult than anything for which I could have anticipated. But everyone always had time. I could walk up or down the street at any hour of the day, confident that I would find a friend along the way, that my destination was a place of comfort because people were always there and always available. In the States, it's different. Everyone has an agenda. A destination is not a place of rest, but rather a thing to check off a long list of to-do's. There is little that is spontaneous because most are confined behind the walls of a home or an office, confined to obligations, all of which are important. But I feel isolated and lonely, fearful of rejection because here I am, in a state of limbo, trying to figure out my next move – figuratively and quite literally. I'm 25 years old, without a job, and have settled back into this place I call home, yet that feels so strange to me. Who am I now? For so long, my life in Haiti has defined who I am. I was the girl who lived in a mysteriously foreign land, saving the world, loving kids and being loved by them in return (insert sarcasm). Suddenly, I am off the radar. Again, I am normal, but there is nothing normal about me.
I want to indulge in frivolous conversation with interest, but nothing seems to excite or hold my attention anymore. I want to converse about matters spurred on by the injustices of this world, not because I am better or smarter or more qualified (because I am far from any of these things) but because every day of these past four years have been saturated in it. I want to talk about the stories of my kids who matter even more now than they did when I was there, right beside them. I fear they will be forgotten, left behind, simply because their pictures no longer appear regularly on the feed of my Instagram or the timeline of my Facebook.
And then, of course, just last week, a statement was made from the perspective of a man who spoke out of turn and out of respect as the leader of our country. The very country – the promise land – Haitians die trying to get into has labeled them as worthless and without value. An AIDS-infested, shithole. Anderson Cooper, my new hero, stated in his address on CNN, in front of the world (and without shame) that he has, "never met a Haitian who isn't strong." My throat tightened.
Tears welled in my eyes as I was just beginning to believe my lack of emotion since my return was abnormal. His words stung, not because they were hurtful but because they were true. And he, in his power and position, used his platform to bring light out of this heavy darkness.
Most days, I still cannot fathom that this chapter of my life is complete, and I grow restless in the unknown, wanting to give an adequate answer to that same question – what is your plan? I wish I knew but the reality of my departure was not that God had prepared for me something extravagant or extraordinary to step into, but rather He knew it was time.
Towards the end, I was anxiously counting down the days to December 20th, itching to get out, and yet holding onto them for dear life, hoping and praying the day would never arrive, because even though I knew my human flesh was not capable of pressing on, I desperately desired to. I never understood the term "burn out," but all of a sudden, it was happening to me. I was slowing burning out, wanting to prove that I was worthy and strong. But indeed, God knew better. I was tired. I was weak. And I needed rest. So in a sense, I feel He pushed me out of Haiti out of His love for me.
He did not need me there before I arrived and He does not need me there now after I have left. Living in Haiti did and does not define who I am. But I'm caught in this place of confusion – Who am I? What value do I bring? Does anyone want me? I wrestle with such thoughts as I now spend a majority of my days by myself, wondering how these experiences and this knowledge can be applied to my future life. But I wait, quite begrudgingly, expectant of what is to come, because I am caught in a paradox of emotions, in anxiousness and in peace, and I realize that perhaps the transition is not just a phase but a lifetime of change because Haiti has forever changed me.
January 18, 2018 – by Lauren Neal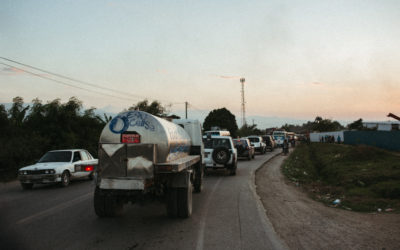 A Rush Hour Realization: On the Road in HaitiDusk begins to fall like a sign of relief after a long day's work; blood, sweat and tears in its most literal sense. A stagnant line of vehicles is evidence of the journey home for many. Hues of pastel paint the sky, a...
read more
Photography & storytelling with purpose
Feet in Cincinnati, Heart in Haiti