The Jean Baptiste's: A New Mexico Family Session
Justine is unapologetically herself. It's one of the qualities I admire most about her. And perhaps what makes her feel so safe. Because she isn't afraid to hide who she is or who she's not, where she's been or what she's going through. It requires unequivocal strength to be authentic in our inauthentic world.
We've been friends now for nearly four years and though our day-to-day lives have geographically diverged, this past year has been one of my favorites together because I've witnessed the joy she's experienced.
I've watched, quite literally, as God has fulfilled the desires of her heart, not necessarily in the way she expected, but in a way that has been perfect for her. She met Tony, her person, and fell in love, was engaged and married on the beach in Haiti, a home away from home, and welcomed her beautiful daughter, Olivia, into the world.
In the midst of everything that's going on in our world right now, spending the past week with Justine and Tony was a sweet and gentle reminder that this is what life is about. Facing the unknown, overcoming the adversity, embracing the simple joys of life—relationships. Because at the end of it all, we take nothing away. Rather, we leave the love we gave.
Justine and Tony, thank you for letting me share in these milestone moments with your family. It has truly been an honor and a delight.
Menm si se Ayiti oubyen lòtbo nou ye, love la pa gen distans li pap ka travese. Lèw gen baz konsa wa konprann 🇭🇹
Location: White Sands National Monument, New Mexico 
March 23, 2020 – by Lauren Neal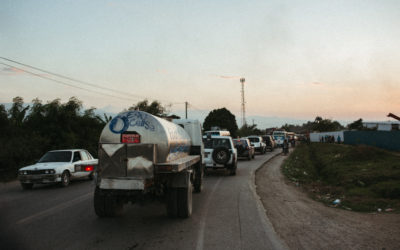 A Rush Hour Realization: On the Road in HaitiDusk begins to fall like a sign of relief after a long day's work; blood, sweat and tears in its most literal sense. A stagnant line of vehicles is evidence of the journey home for many. Hues of pastel paint the sky, a...
read more
Photography & storytelling with purpose
Feet in Cincinnati, Heart in Haiti