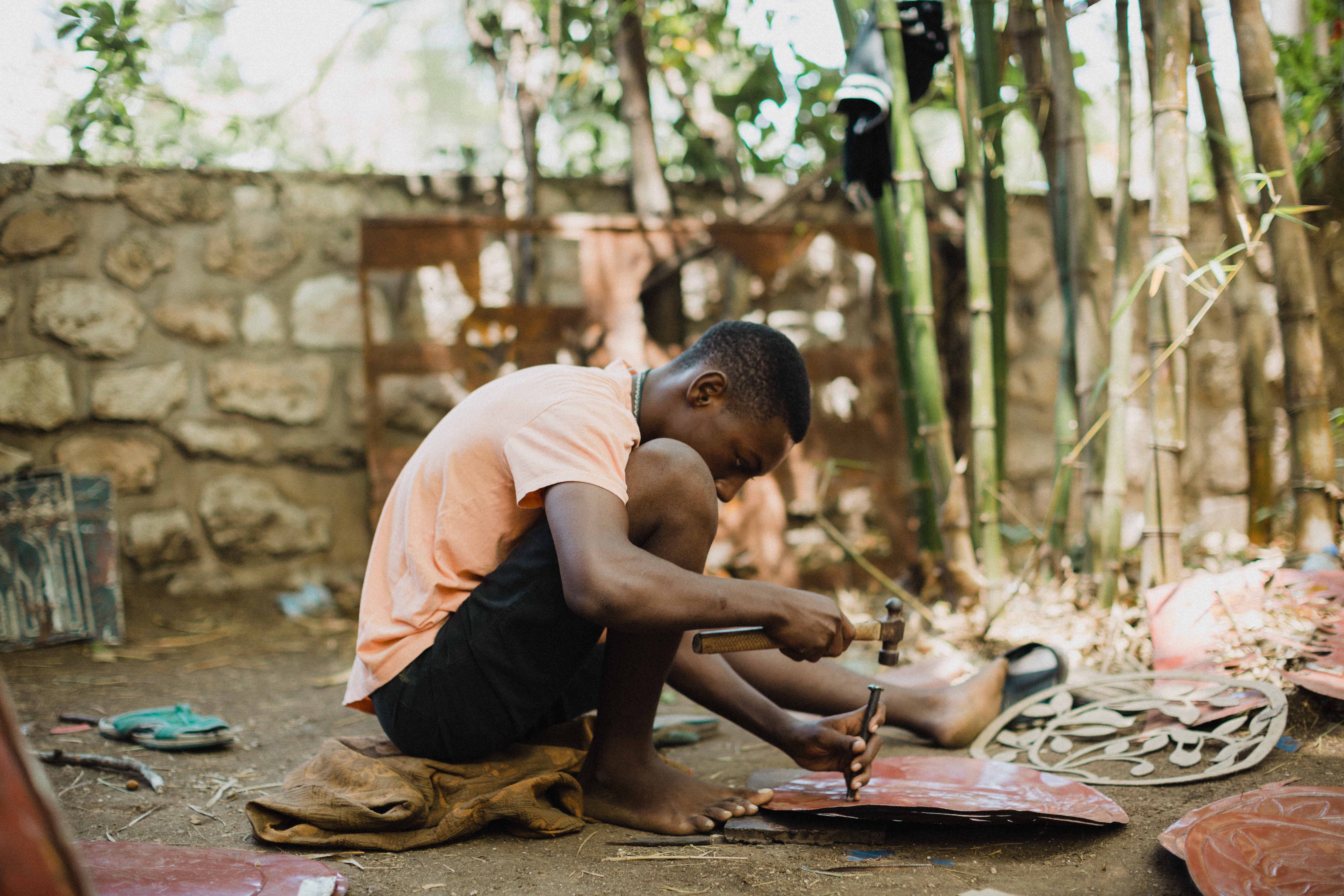 Beneath the shade of the bamboo and the palm leaves, he crouches over, his concentration fixated on the task before him—the scrap metal that he will soon transform into marketable art decor, a statement piece to be bought and hung on the wall of one's home a thousand miles away in America.
He guides his hands, strong yet steady, as he pierces the blank canvas, forming small indentations until his vision is complete. An artist, in his own right.
I admirably watch as he effortlessly works. Sensing my presence, he glances up and offers a subtle smile. I ask if I can take his photo to which he responds with a wider grin, a nod of approval. Proud, perhaps, just as he should be. I circle his vicinity, several feet away, first capturing his profile then inching my way around in front of him. I squat so our eyes are level, suggesting that our distance from the ground is simply a reflection of our worth. It's something I do often, whether I have my camera in hand or not. I hope this gesture reemphasizes the fact that neither the shade of my skin nor the language of my tongue determines my power over him.
I snap of few more, then turn my camera around, outstretching my arm so he can see. His expression assures me he is satisfied. Though his feet are bare and his surroundings are unkept, he is beaming, thrilled by his own image and maybe, in a sense, his accomplishments.
The gravity of privilege is often lost on me. Here, a young man, still in his adolescence, was dealt a life he did not deserve. But he works hard to overcome the adversity and to pave a better tomorrow for himself because no one is going to do that for him. Because you see, we do not merit luxury or comfort or ease. Some of us receive it, and some of us do not. I cannot pretend I will ever understand what these eyes have seen or what these hands have felt or what this heart has experienced. I can, though, remind myself of this truth—that equality is not just a term of acceptance we toss around in a privileged, developed America but that it is a cause of justice worth recognizing and pursuing. Because even though our journeys may begin on opposite sides of the globe, our paths intersect and weave together to write this grand story of life.
Taken while on assignment for Haiti Mama.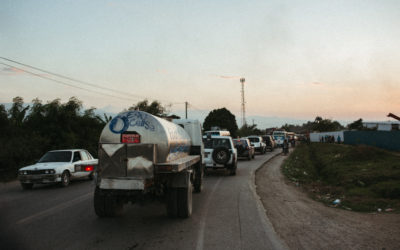 A Rush Hour Realization: On the Road in HaitiDusk begins to fall like a sign of relief after a long day's work; blood, sweat and tears in its most literal sense. A stagnant line of vehicles is evidence of the journey home for many. Hues of pastel paint the sky, a...
read more
GET IN TOUCH
Looking to collaborate on a future project? Fill out the form below in as much detail as your prefer.
CONNECT WITH LAUREN ON INSTAGRAM