The Charles': A Brooklyn Family Session
In the summer of 2017, I met Alexa, just around my birthday in June. I remember the date specifically because she was preparing to head back to New York for her wedding and I had just started working at Papillon where she served as the Cafe manager at the time. But what I didn't know then, as I sat in that first staff meeting, surrounded by both Haitians and foreigners, was the role Alexa would play in my life now, nearly three years later, as we're both readjusting to life in America.
But first, let's rewind a few years back. Before she was Alexa Charles, she was Alexa DeMiglio, and a member of the coveted "Babe Cave," a house of single and soon-to-be-married women who lived in Delmas 75, a pretty well known area just outside the city of Port-au-Prince. But because of the time it took sitting in traffic to get to this specific part of town, consistent community with these women just wasn't that feasible. Not that friendship isn't worth sitting in traffic for, but if you've been to Haiti, you understand the hassle.
Then, in the last six months of my time living in Haiti, I started a part-time position with Papillon, a social business that provides employment for Haitian men and women who otherwise might not have a job. And that's when our paths crossed. We would sit in the Cafe, independently working, but dependently conversing—the beginning of our friendship.
This 100% Italian, New Jersey native made her way to Haiti just after the earthquake and she fell in love. With the island, with the people, with the culture. And of course, with her husband, Jean Paul.
Though our paths diverged when I left Haiti, we stayed in close contact. And with each visit back, she'd open up her home to me, always ensuring I not only felt taken care of but that I also felt loved.
If you know Alexa and Jean Paul, you've likely been the recipient of their hospitality. It's an undeniable spiritual gift they both possess, perhaps which is what makes them such a good match. Servant-hearted, detail-oriented, Christ-centered, light-driven.
I never imagined then, on the cusp of my departure from my Haiti home, that the buds of friendship had only just begun to blossom. But in this season, I've realized just how sweet this fellowship has been. Neither of us necessarily wanted to leave Haiti. Even two years and three months later, I still get caught up in moments of grief. I miss it every day. No matter the number of return visits, it's just not the same. And to have someone who understands and resonates in these feelings, who affirms the sadness and the longing, has been both healing and refreshing to my spirit.
Last October, I had the opportunity to visit them in New Jersey as they anticipated the arrival of their son. And just last month, I finally got to meet him, hold him, cuddle him, see him, love him, and of course, photograph him.
Jayden, you are more precious than words could articulate. Jean Paul and Alexa, thank you for your consistent and steady friendship in the midst of grief, uncertainty, and yes, sometimes, sadness. You are a light in this dark world. Thank you for shining that light on me.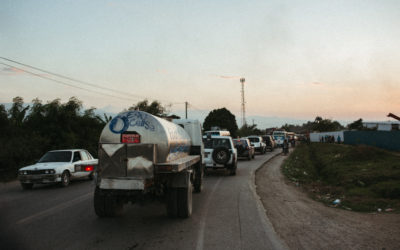 A Rush Hour Realization: On the Road in HaitiDusk begins to fall like a sign of relief after a long day's work; blood, sweat and tears in its most literal sense. A stagnant line of vehicles is evidence of the journey home for many. Hues of pastel paint the sky, a...
read more
GET IN TOUCH
Looking to collaborate on a future project? Fill out the form below in as much detail as your prefer.
CONNECT WITH LAUREN ON INSTAGRAM