Christian & Devin: A Bangkok Engagement
He's Filipino. She's American. And their story begins in Bangkok, on this rooftop to be precise.
I often wrestle with this idea of 'soul mates.' This is not to say I don't doubt the fate of love because I have witnessed some pretty incredible stories unfold. It's just that the world is a pretty big place and to confine our future to the limits and border of geographical location isn't really fair.
But then I meet people like Christian and Devin. Neither from Thailand, yet this is where they meet. In one of the biggest, most bustling cities in the world, saturated with people from every continent, culture, and language.
And that's when I start to question my own beliefs. That two people, from two different sides of the globe, would intersect here and begin their story together.
They'd just gotten engaged the week prior (it was so soon after the proposal that Devin yet hadn't gotten her ring back from the jeweler). But it didn't really matter because these two were as laid back as they come.
Both are teachers and so when the school day concluded, I hopped on the back of Devin's scooter and we road off onto the highway. And immediately I thought, this is my kind of woman. Fearless, independent, a force to be reckoned with.
A Texas native, she's lived in Thailand for five years. Though I don't know all the details of her story, I can certainly resonate with what it's like to uproot a familiar, comfortable life and settle into an entirely different country.
We began our session in the place where Christian first asked Devin to be his, on a rooftop overlooking the cityscape. And there, amidst all the noise and all the bustle, it was quiet for a moment. Just the three of us tucked away in the corner as I captured their silhouette against the skyline.
It was a beautiful evening. Arguably perfect weather.
And I thought, what a beautiful gift this is, to meet two different people from very different backgrounds in an incredibly different city because love brought them together first.
Christian and Devin, thank you for inviting me into your love story and allowing me to document these moments for you. Here's to a lifetime of joy.
March 2, 2020 – by Lauren Neal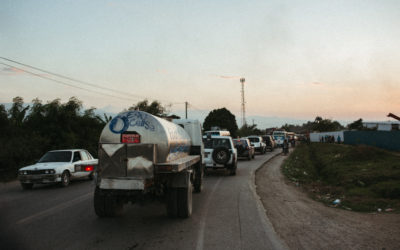 A Rush Hour Realization: On the Road in HaitiDusk begins to fall like a sign of relief after a long day's work; blood, sweat and tears in its most literal sense. A stagnant line of vehicles is evidence of the journey home for many. Hues of pastel paint the sky, a...
read more
Photography & storytelling with purpose
Feet in Cincinnati, Heart in Haiti