Ahmaud Arbery: Where Darkness Prevails
It was the third day of sorority rush. I was a sophomore at the University of Alabama, fresh off of summer break, thrown back into the thralls of brief meet and greets, rehearsed songs, and all the makeup and hair spray one can fathom.  
Greek recruitment at this particular school was the largest in the country at the time. Each year, over 2,000 young women dressed in their best to put their most impressive foot forward. I had been in their position just a year prior. No one in my family had ever been in a sorority. I mean, hardly anyone had graduated from college. So I had no idea what this process entailed until I was on the other side of it.
For months, we studied the incoming freshman class. We hosted teas and luncheons, we memorized names and photos. Often, we knew the kind of money these girls families' were made of. We even came up with rhymes to remember them because God forbid, we accidentally cut a "star." Slideshow after slideshow, we'd click through the pages. I spent more time agonizing over this list than I did for anything in my academic classes. 
Then, there was the blacklist. The ones we absolutely couldn't allow onto the front lawn on Bid Day. I get it. It's how it's always been, especially in the South. But to say it was vicious would be an understatement. 
Of all the girls I talked to throughout that week, there was one who stood out to me. I still remember her to this day. She had beautiful dark skin and thick black hair. It seemed she could have been of Indian descent. But who am I to stereotype her into one category? We chatted. She sat in the chair in front of me and I kneeled on the floor before her. It elevated the girls, made them feel as if they were someone I suppose. Little did they know we had already compiled a list of everyone we wanted. There were few girls who unknowingly slipped through the cracks, few who made it into a sorority house without any foreground. 
But it wasn't the conversation that stuck out to me. In fact, I don't remember anything about it. It's what followed immediately after that is forever seared in my mind. As soon as we shuffled the girls out, bright white smiles plastered on our faces, waving to them in a robotic fashion, and slamming the front door behind us, an upperclassman rushed to my side. 
Did you take care of it? She raised her brows at me. It wasn't a question but an authoritative command. 
It. I knew exactly what she meant, but did she really just refer to this girl as it?
That girl who had sat before me, beautiful but naive, had no chance of getting into our house. She probably didn't get into any house. Why? Because of the color of her skin. In that moment, I was immediately crushed beneath the gravity of a deeply-rooted system hailing white supremacy. 
As I crossed her name from the list, I felt ashamed. But there was no time to dwell on the convictions of my heart because we were preparing to welcome yet another group of girls into the house just moments later. 
Something changed in me after that week. My sophomore year, I hardly attended any of the sorority functions. I think I went to just enough chapter meetings not to be kicked out. I just didn't care for it anymore. 
But the worst part about this? This wasn't specific to my sorority. Nor was it even specific to the university. This unspoken racism infiltrates the entire southern region of the United States. Young women of color banned from being a part of sorority solely because of how they looked. 
Sororities weren't a sisterhood. Sororities were a means to separate the haves from the have-nots, a hierarchy of social status, at least in the eyes of this campus. And my sorority house just so happened to face the only black house on sorority row. Talk about paradox. 
I couldn't stand the racist culture. It was blatantly obvious but silenced. The African American football players were praised on the field like gods, yet sometimes, we'd receive an email from the president addressing the racial slur or threat someone had left on the sidewalk in chalk of our pristine campus. 
I ended up transferring after my sophomore year. Never did I imagine I would be someone to transfer schools in college. I remember when I was in high school, I looked down upon those people as if something was wrong with them, like they couldn't fit in. But I knew after my freshman year of college I was moving to a black nation. I was moving to Haiti, the first black republic in the world. How could I stay, condoning this behavior? It wouldn't have been what I did but what I didn't do that would have made me a hypocrite. 
That was just nine years ago, in 2011. 146 years after the Civil War. 48 years after Martin Luther King's March on Washington. But 9 years prior to the shooting of Ahmaud Arbery.
Ahmaud is, unfortunately, one of many. Targeted and attacked by nothing other than the color of his skin. Wrongly murdered in broad daylight. 
If the severity of this death doesn't reveal to us the character of our nation, I'm not sure what else it will take. 
But that was something I learned during recruitment. I was just nineteen years old at the time. The upperclassman, only a year or two older than me. Yet, this mentality was embedded into the mind of this girl like she'd known it her whole life. And she probably had. 
This isn't the first time I've thought about that girl who sat in that chair before. And it won't be the last. Sometimes I wonder what happened to her. Did she stay? Did she transfer? What I would give to do it over again just to tell her that her worth and her value cannot be defined by the racial prejudices of our society. 
I am heartbroken. Racism is real. You might not always see it in your day-to-day life, but it exists in nearly every corner, prevailing in the dark. 
And you might choose to turn your eyes from it because it's uncomfortable. But until people like Ahmaud can run freely on the streets, until black citizens of the United States can live and breathe and be without fear, and until humans are no longer referred to as it but are valued for who they are, we must admit the darkness is not something external, but it's something within us.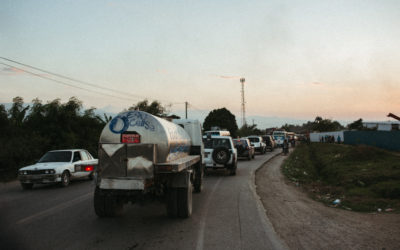 A Rush Hour Realization: On the Road in HaitiDusk begins to fall like a sign of relief after a long day's work; blood, sweat and tears in its most literal sense. A stagnant line of vehicles is evidence of the journey home for many. Hues of pastel paint the sky, a...
read more
GET IN TOUCH
Looking to collaborate on a future project? Fill out the form below in as much detail as your prefer.
CONNECT WITH LAUREN ON INSTAGRAM