Before I moved to Haiti, I believed children lived in orphanages for one of two reasons. 1. They truly are orphaned children without a living biological mother and father. 2. Their parents do not want them and thus, these "orphans" are placed under the care of someone else, operating some sort of institution.
But what I failed to realize is that there is, in fact, a third category.
Before I moved to Haiti, I believed Gervens had been neglected and abused by his parents. I had never met them but I had come to this conclusion and had formed in my heart very bitter feelings toward them.
But just a little over a year ago,
I met them for the first time
But just a little over a year ago, I met them for the first time. And as I sat with them in their yard, peering over old photographs of their son, listening to them share stories and memories with affection and love in their voices, I began to recognize that this story was not the one I had preconceived. I had conjured it up in my mind a long time ago, a story in which now the chapters are being rewritten not by my imagination, but by truth.
It's been just over a year since this relationship has slowly begun the process of reconciliation. Gervens has since spent much time with his parents, spending the night when he gets a break from school or calling his mom just to catch up. On Saturday, as they were chatting (upon his request), he was beaming through the entire conversation, much like he does each time he hears his mom's voice.
There is this third category of children; children whose parents truly love them, children whose parents believed that an orphanage could provide a better life, children whose parents feel inadequate to give them what they deserve, but children whose parents just need to be reminded that they are worthy of the calling God has placed on their life, to hear that they are enough, to know that they can do this.
This story is, without a doubt, to be continued.
January 18, 2018 – by Lauren Neal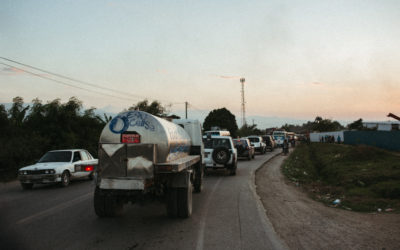 A Rush Hour Realization: On the Road in HaitiDusk begins to fall like a sign of relief after a long day's work; blood, sweat and tears in its most literal sense. A stagnant line of vehicles is evidence of the journey home for many. Hues of pastel paint the sky, a...
read more
Photography & storytelling with purpose
Feet in Cincinnati, Heart in Haiti